screen printing for artists



Cut Editions is a silk-screen printmaking studio specialising in the production of limited edition original artist prints. Established in 2017 by Ni and Ben Gooding, the print studio is based in The Cut Arts Centre, Halesworth, Suffolk. Originally a Victorian Maltings, the building is now home to a theatre, gallery, arts cinema and cafe and has a prestigious cultural programme.
Situated on the ground floor, Cut Editions aims to collaborate with artists and designers who wish to make original prints. Artists do not have to have any previous knowledge or experience of the screen printing process. We are here to guide you through every stage. We will give as much or as little help and advice as required. We are able to make editions for artists or artists are welcome to book time in the studio in order to produce work for themselves under our technical supervision.


Ben Gooding is an artist based in London. He has a 1st class Honours Degree in Fine Art (Printmaking) from the Cambridge School of Art and an MA in Fine Art from Central St. Martin's College of Art and Design. He has since been living and working in London. Alongside his own practice, he teaches printmaking at Camberwell College of Art and is a contributor to Saturation Point Projects.


Ni Gooding studied ceramics and printmaking and has a degree in art history. He prints and paints in his north Suffok studio.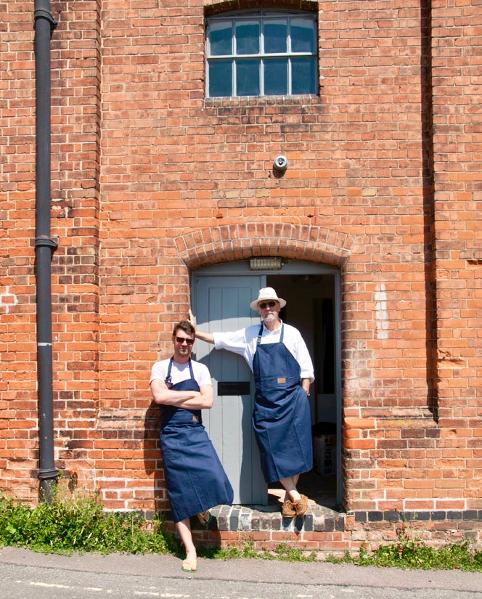 Ni and Ben Gooding outside the studio at the Cut...
What is an original print?
There is a hugely important distinction to be made between the terms 'original print' and 'print'.
An original print is a work conceived and made as a print. It is not a painting, drawing or work in some other medium that is photographed and then photo-mechanically reproduced innumerable times such as the images you find in magazines, books or so called 'fine art prints'. These are reproductions and, although they can be useful, they have practically no intrinsic value.
To make an original print, the artist works directly on the plate, stone, block or screen to which, after various technical processes, ink is applied and then pressed, transferred or squeezed onto paper. Every part of an original print is made by hand including, in some cases, the paper.
Due to the technical nature of printmaking, artists often work in close collaboration with technicians to realise their vision. People who make original prints are called 'print makers' as opposed to 'printers'. The nature of the process makes it possible for an artist to produce multiple, similar copies of an image in the same way that potters might make multiples of a particular shape. Original prints are nearly always made as limited editions. An edition is usually quite small, between ten and fifty and rarely more than a hundred. Each print is numbered and signed by the artist after which the means of it's production is either defaced or destroyed.
Artists make original prints because it is possible to achieve certain effects with printmaking that are difficult to achieve using other techniques. An etching looks like an etching, a block print like a block print and a screen print is recognisable as a screen print. It might also be that the artist simply enjoys the printmaking process. For many artists the most important aspect of the creative process is 'the making'.
Because it is possible to make multiple, similar copies of the same image, original prints can be sold for considerably less than a 'one off' painting or drawing, making the acquisition of original art accessible.